HC Plastics News:
The optimized BASF thermoplastic polyurethane elastomer (TPU) has excellent mechanical properties and is ideal for the manufacture of shoe support sheets.
Innovative materials technology helps improve the design freedom of footwear decorative parts
Energy-efficient TPU grades can reduce production cycle by up to 30%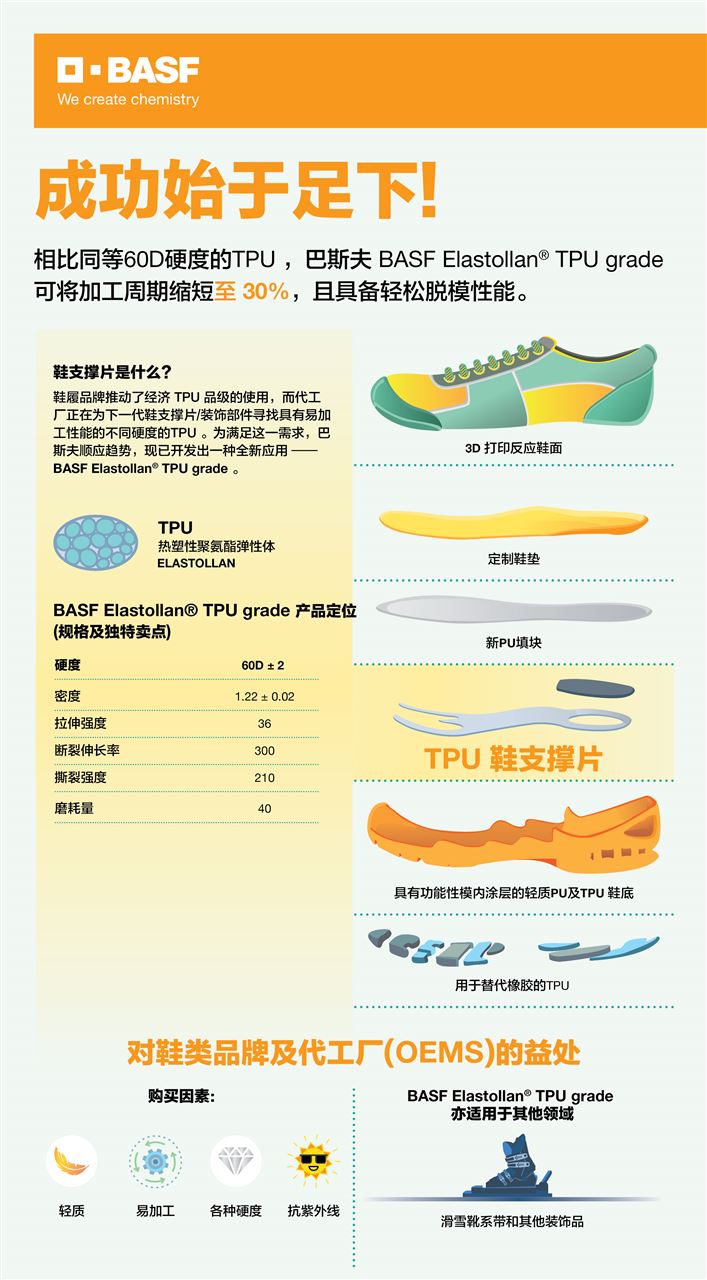 BASF's latest TPU technology helps high-performance shoe support to increase productivity
BASF recently introduced a high-grade thermoplastic polyurethane elastomer (TPU) that not only significantly improves the production process of shoe support sheets and decorative parts in high-performance footwear, but also provides excellent mechanical properties such as UV resistance. The new Elastollan® TPU grade is also compatible with automation, and the parts can be easily demolded, giving the shoe trim components a higher degree of design freedom.
Mr. Manfred Pawlowski, Vice President, Consumer Products Industry, BASF Asia Pacific, said: "BASF has been providing a wide range of shoe solutions for many years. This new material helps to meet the ever-increasing standards of support sheet manufacturing and reduce costs. We are working with shoes. Class brands and manufacturers work closely together to explore a variety of high performance footwear applications."
The new Elastollan grade requires a lower injection temperature, which shortens the processing cycle of the shoe support sheet, resulting in stronger low-temperature tortuosity and easier release. Depending on the size and thickness of the part, processing time can be reduced by up to 30%, significantly reducing labor costs.
The support sheet is located between the midsole and the outsole and is an integral part of the support structure. It is usually made of a rigid material that strengthens the outsole while supporting the sole to make it more stable.
With its rigidity, this new grade is also the ideal material solution for sports and leisure products, such as ski glue for fixing ski boots and snowboard.

Editor in charge: Yao Chunlin
We know the importance of child to every parents. And we always try to provide you with child safety products of the best quality. Except the above products, we have many Other Child Safety Protection Series, including child anti lost wrist, baby safety harness reins, car window shade covers, blind cord wind ups and so on. Not only for use indoor, but also for outdoor. It could effectively protect your child from all aspects. Also it will reduce your worries about your child.
Other Child Safety Protection Series
Water Safety Life Jacket,Toy Protection Series,Baby Nature Protection Series,Other Child Safety Protection Series
Ningbo Fabe Child Safety Co., Ltd. , https://www.fabesafe.com